We recently lost a beloved warrior and water protector, Joye Braun, (Wambli Wiyan Ka'win) of the Cheyenne River Sioux Tribal Nation. Friday, January 20th would've been Joye's 54th birthday, and in recognition of her fierce leadership and the pivotal role she played in stopping the Keystone XL pipeline, among other initiatives, water protectors stood in solidarity on Dakota lands in St. Paul, Minnesota.
NDN Collective gathered with the hosts of the event including members of Honor the Earth, MN350 Action: Climate Justice in Minnesota, MN350: Building a Climate Movement in Minnesota, and Minnesota Interfaith Power & Light to read the community letters highlighting key concerns and demands to the Department of Natural Resources (DNR).
"I've been at many climate fights, and land defenses, and while I always felt I was getting there right away, I'd end up arriving to meet Joye who was already on the ground doing what she could to defend the Earth," said Lorenzo Serna, NDN Collective Director of Tactical Media who was on the ground at the event in honor of Joye. "I hope only to continue her legacy as we strive to defend the land and the water for future generations. Much respect and admiration always for Joye."
At the event in St. Paul, relatives held signs that read, "DNR Do Not Resuscitate Pipelines," and rallied in front of the Minnesota Department of Natural Resources building. Upon arriving at the entrance, and within public speaking hours, the DNR staff closed the main doors in an attempt to divert the crowd away. Even so, Gina Peltier from Honor The Earth read off the demands.
Some of the demands included calls to action for President Biden to stop issuing federal fossil fuel leases, declare a climate emergency, stop approving fossil fuel infrastructure projects like pipelines and plastic plants, and stop exporting fossil fuels. For the sake of our future generations, we will not sit by idly. The Biden Administration must understand that whether we are in Minnesota, Alaska, or anywhere across the globe, when fossil fuel agendas are pursued, environmental and climate injustices prevail.
Joye's legacy will live on, and we will continue to advocate for our communities and hold Biden accountable. Joye said it best, "Be a climate warrior, not a wimp. Kill the black snakes, reject all fossil fuel projects, and declare a climate emergency!"
More Photos from the Spark (Joye) Event in Minneapolis:
Click on photos to expand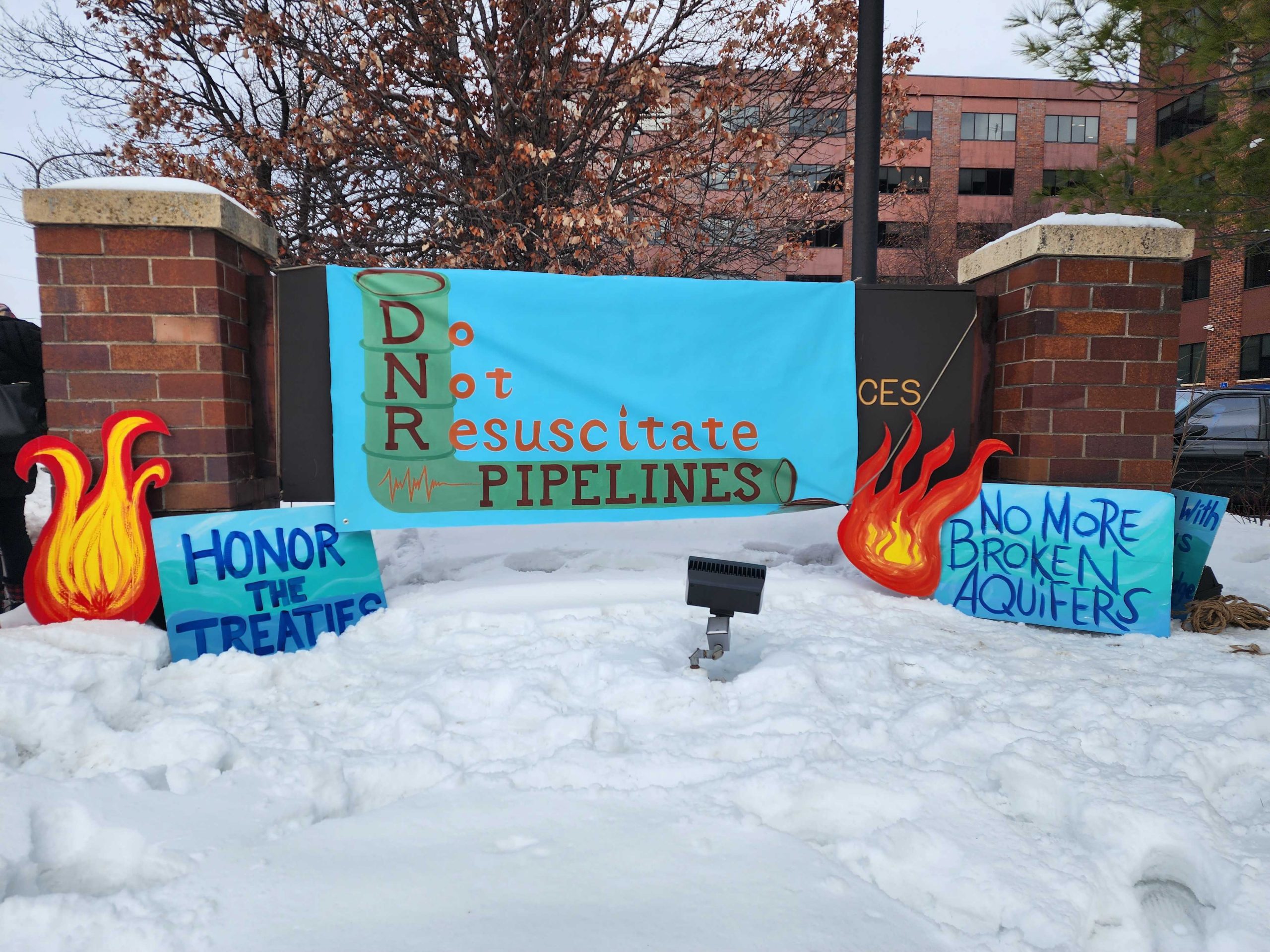 To learn more on other ways you can help, visit:
Share this Blog with your community using hashtags:
#StopLine3 #StopLine5 #NoMoreFossilFuels #RestInPower
Related Articles:
Indianz.com | 'Modern Day Warrior': Native rights advocate Joye Braun passes on
Indian Country Today | Dedicated Pipeline Fighter and Water Protector Joye Braun passes away